INTENSIVE TRAINING PROGRAM FOR YOUNG DANCERS
INTENSIVE TRAINING PROGRAM FOR YOUNG DANCERS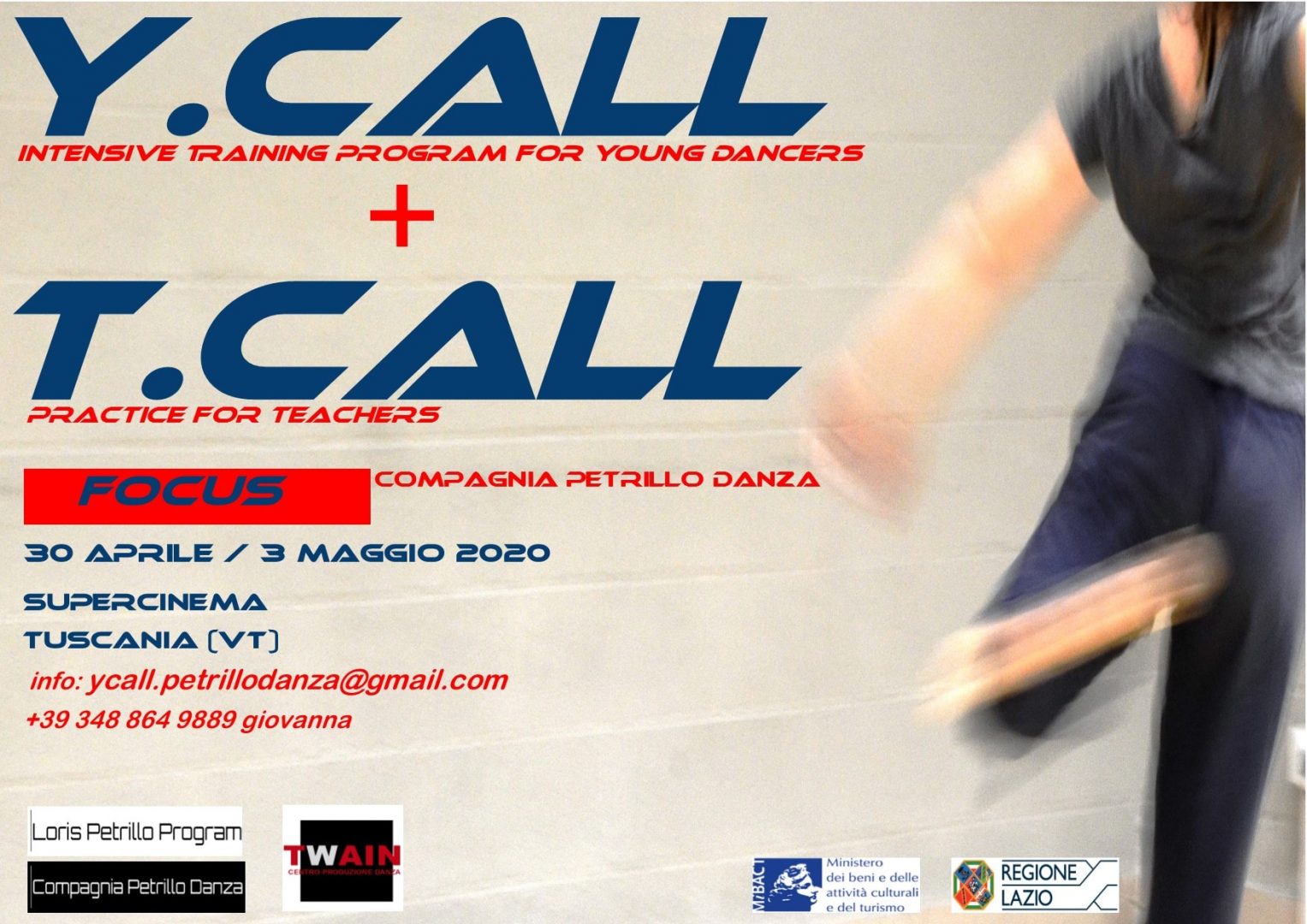 We inform you that, due the Governmetn DPCM to contain any risk of Covid-19 spreading,
Y.CALL + T.CALL has been postponed.
The new dates, including the new deadlines, will be communicated soon.

is the intensive of Loris Petrillo Program/Compagnia Petrillo Danza open to young dancers from 15 years old, selected especially for ability and talent, and dedicated to the FOCUS on Compagnia Petrillo Danza: the young dancers have the opportunity to study with the Company and Loris Petrillo in a 4-day full immersion.

The dancers aged over 18 who participate in Y.CALL can access directly to the auditions for SPECIFIC 2020/21, advanced training program by Compagnia Petrillo Danza directed by Loris Petrillo with guest teachers and choreographers.
The Direction can assign scholarships during the auditions.
Study Program
Contemporary Techniques
Functional Training for Dancers
Floorwork & Physical Movement
Repertoire Co.Petrillo Danza

is the program for teachers led by

Loris Petrillo - choreographer & director, international freelance artist, former dancer Goteborgs Operan Ballet, Ballet Royal de Wallonie, Balletto di Toscana, Stadttheatre di Bern
&
Vanessa Altini - certificated in Matworke and Studio & Barefoot Specialist Trainer

How to access
Y.CALL and T.CALL are for a limited number of participants. The entrance is only by invitation and/or scholarship.

Contacts
For more information write to:
ycall.petrillodanza@gmail.com
or call
+39 348 864 9889 Giovanna
Y.CALL + T.CALL is an exclusive project by Loris Petrillo organized and supported by Twain Centro di Produzione Danza, supported by Regione Lazio and Ministero per i Beni e le Attività Culturali

2019
1-4 May
Centro d'Arte e Cultura
Città di Ladispoli / ROME
Focus Compagnia Petrillo Danza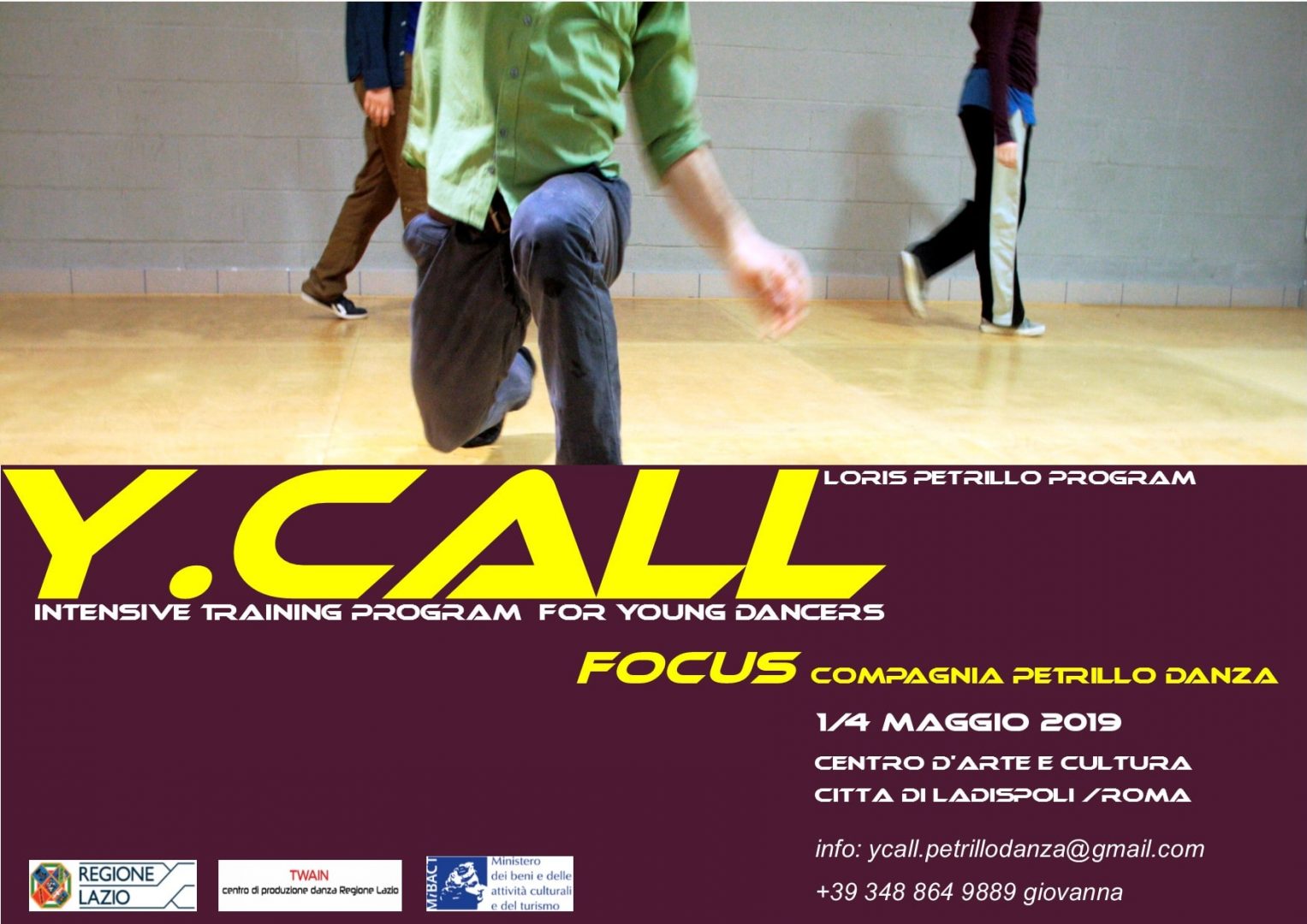 2018
29-30 aprile, 1 May 2018
Centro d'Arte e Cultura
Città di Ladispoli – ROME
Ballet_
Giusi Santagati
ballet teacher
Contemporary_
Loris Petrillo
International freelance artist – choreographer and director
Floorwork
Yoris Petrillo
dancer/performer
2017
29-30 aprile, 1 May 2017
Auditorium Massimo Freccia
Città di Ladispoli – ROME
Ballet_
Annamaria Galeotti
ballet teacher – Accademia Nazionale di Danza di Roma

Contemporary_
Loris Petrillo
International freelance artist – choreographer and director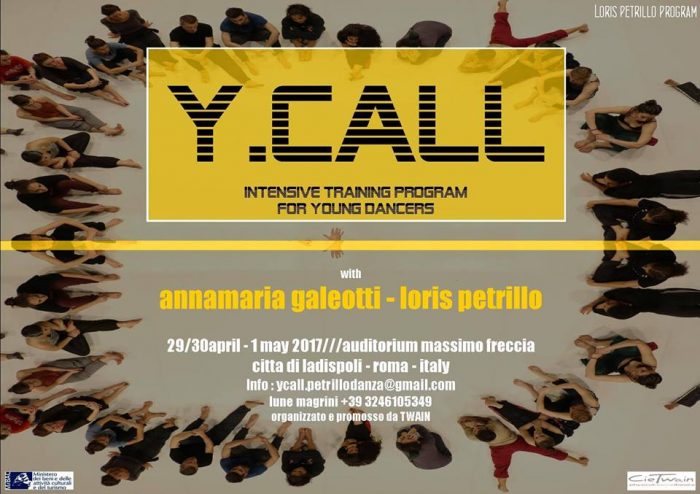 2016
16/17 April
Altamura - Bari

Ballet_
Michele Politi
maitre de ballet internazionale

Contemporary_
Loris Petrillo
International freelance artist – choreographer and director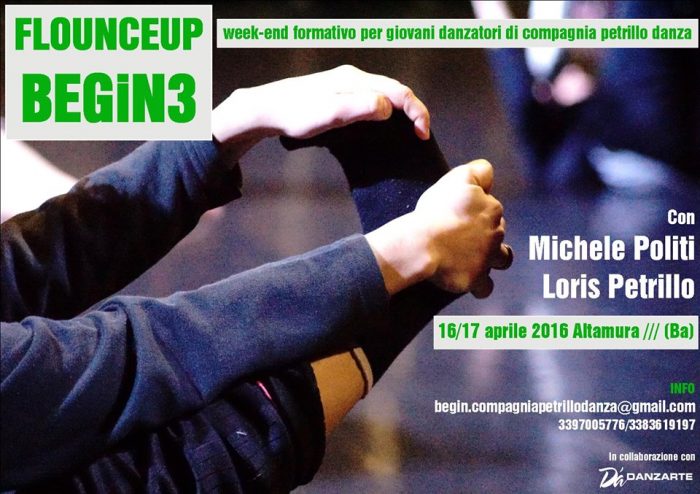 2015
11/12 April
Altamura - Bari

Ballet_
Silvia Humaila
first dancer/maitre du ballet and choreographer Balleto di Stato di Timisoara (Romania) and Teatro Nazionale di Sarajevo (Jugoslavia)

Contemporary_
Loris Petrillo
International freelance artist – choreographer and director