INTENSIVE TRAINING PROGRAM FOR YOUNG DANCERS
INTENSIVE TRAINING PROGRAM FOR YOUNG DANCERS

is the intensive of Loris Petrillo Program/Compagnia Petrillo Danza open to young dancers from 15 years old, selected especially for ability and talent, and dedicated to the FOCUS on Compagnia Petrillo Danza: the young dancers have the opportunity to study with the Company and Loris Petrillo in a 4-day full immersion.

Study Program
Contemporary Techniques
Functional Training for Dancers
Floorwork & Physical Movement
Repertoire Co.Petrillo Danza

is the program for teachers led by

Loris Petrillo - choreographer & director, international freelance artist, former dancer Goteborgs Operan Ballet, Ballet Royal de Wallonie, Balletto di Toscana, Stadttheatre di Bern
&
Vanessa Altini - certificated in Matworke and Studio & Barefoot Specialist Trainer

How to access
Y.CALL and T.CALL are for a limited number of participants. The entrance is only by invitation and/or scholarship.

Contacts
For more information write to:
ycall.petrillodanza@gmail.com
or call
+39 348 864 9889 Giovanna
Y.CALL + T.CALL is an exclusive project by Loris Petrillo organized and supported by Twain Centro di Produzione Danza, supported by Regione Lazio and Ministero per i Beni e le Attività Culturali

2019
1-4 May
Centro d'Arte e Cultura
Città di Ladispoli / ROME
Focus Compagnia Petrillo Danza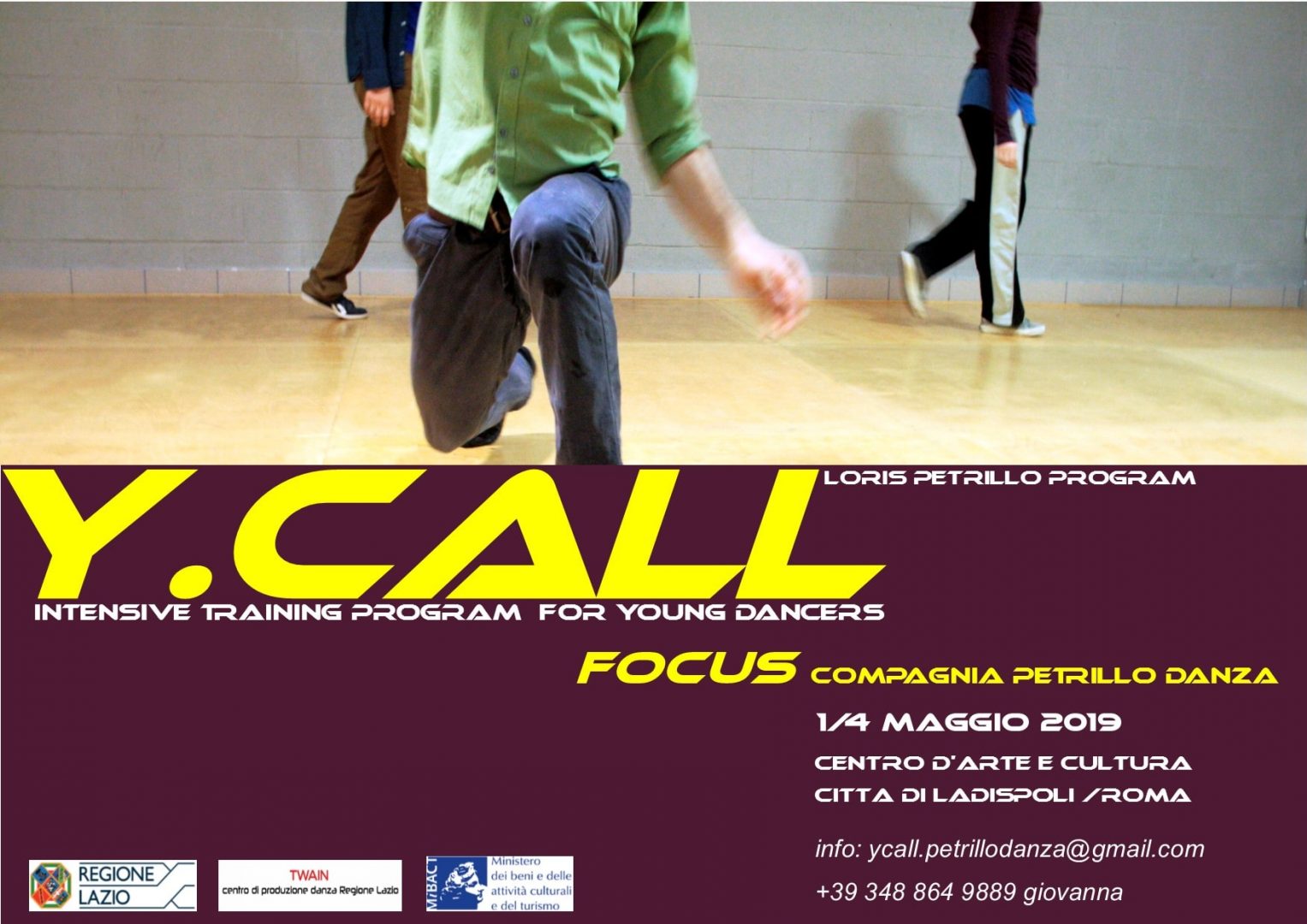 2018
29-30 aprile, 1 May 2018
Centro d'Arte e Cultura
Città di Ladispoli – ROME
Ballet_
Giusi Santagati
ballet teacher
Contemporary_
Loris Petrillo
International freelance artist – choreographer and director
Floorwork
Yoris Petrillo
dancer/performer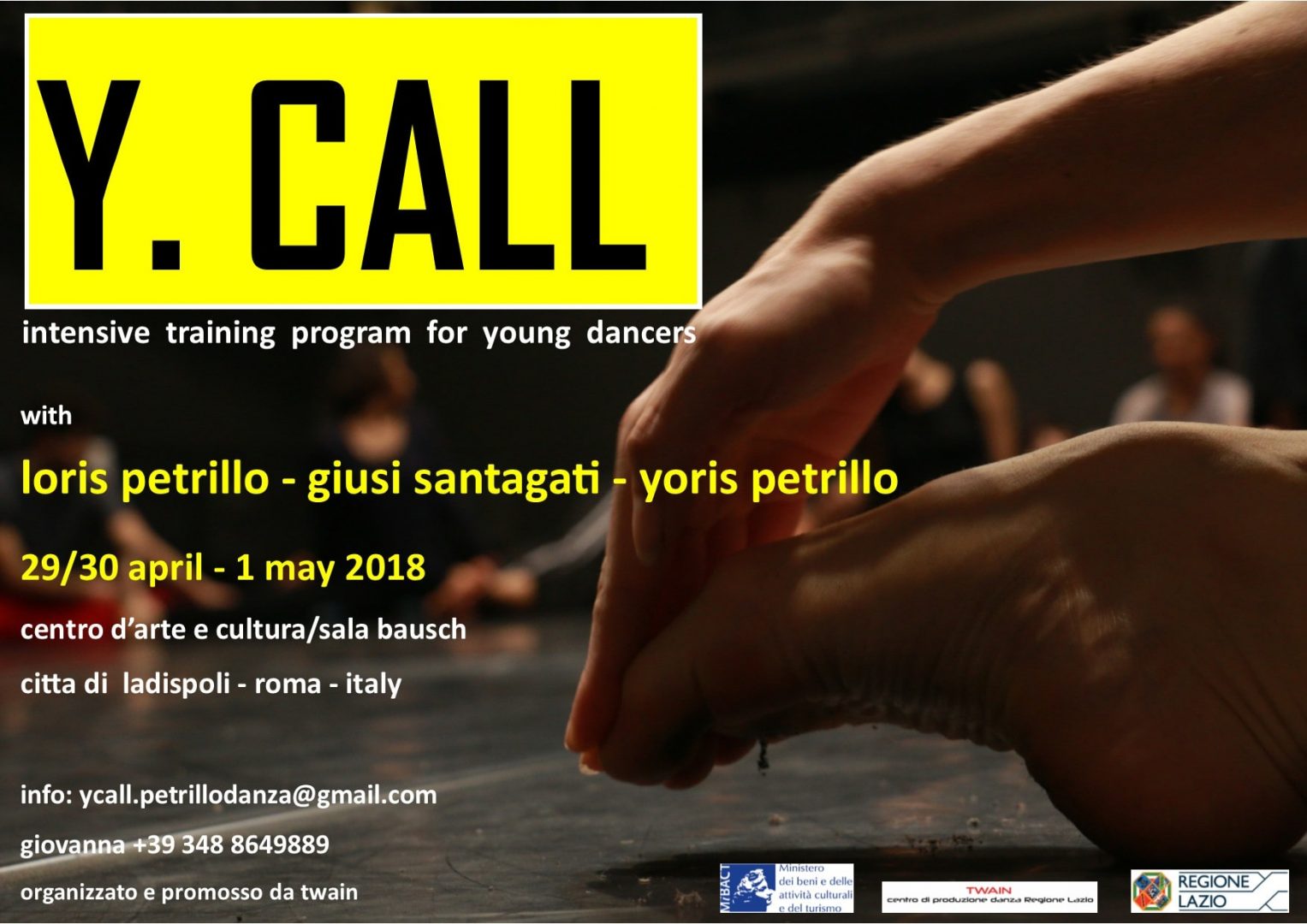 2017
29-30 aprile, 1 May 2017
Auditorium Massimo Freccia
Città di Ladispoli – ROME
Ballet_
Annamaria Galeotti
ballet teacher – Accademia Nazionale di Danza di Roma

Contemporary_
Loris Petrillo
International freelance artist – choreographer and director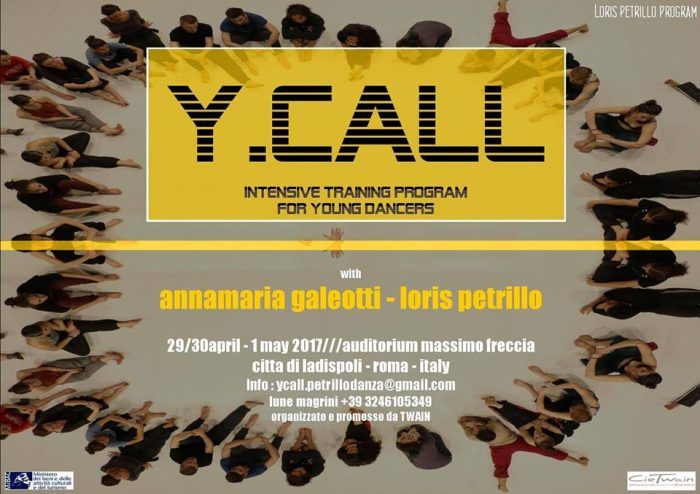 2016
16/17 April
Altamura - Bari

Ballet_
Michele Politi
maitre de ballet internazionale

Contemporary_
Loris Petrillo
International freelance artist – choreographer and director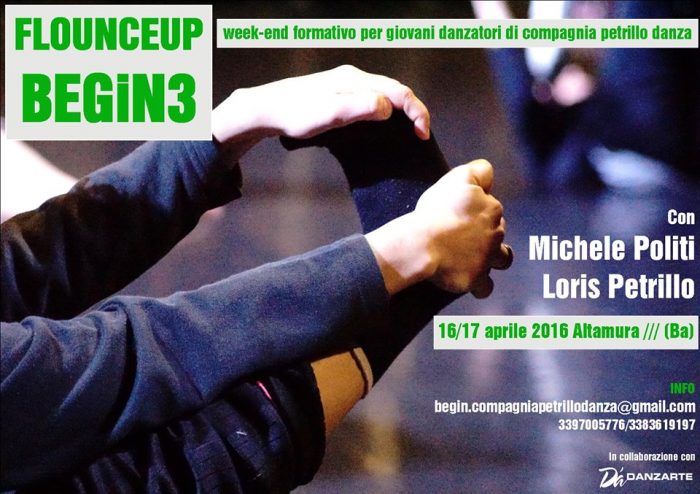 2015
11/12 April
Altamura - Bari

Ballet_
Silvia Humaila
first dancer/maitre du ballet and choreographer Balleto di Stato di Timisoara (Romania) and Teatro Nazionale di Sarajevo (Jugoslavia)

Contemporary_
Loris Petrillo
International freelance artist – choreographer and director