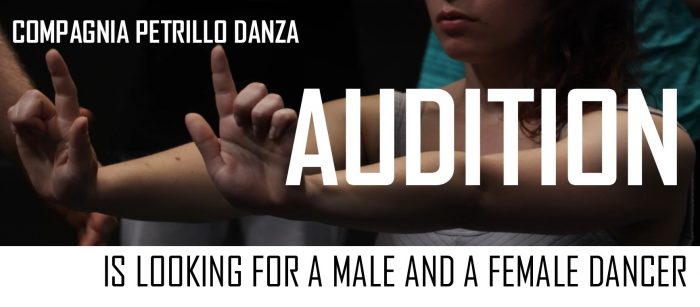 (18/04/2020) The audition for the new creation of Compagnia Petrillo Danza is over.
Compagnia Petrillo Danza
IS LOOKING FOR
a male and a female dancer to join the Company for the new production "Powder", which will premiere on 12th November 2020 at Teatro Comunale di Modena, with repeat performances being defined.
Choreographies Loris Petrillo, production Twain Centro di Produzione Danza Regionale, coproduction Fondazione Teatro Comunale di Modena, in collaboration with Scenario Pubblico - Centro Nazionale di Produzione Danza, Festival OrizzontiVerticali/Fondazione FabbricaEuropa, Festival Bellanda/ERT FVG.
Production period: 30 days between May and November 2020 with calendar in definition.
The audition is only by invitation.
ATTENTION: Due to the Government decrees to contain the risk of Covid-19 spreading, the audition for the new production of Compagnia Petrillo Danza scheduled for April 23 in Ladispoli (RM) has been postponed in summer.

Selections are still underway. You can apply by filling out the form at the bottom of this page.
Applications deadline: April 18

Only selected applicants will be invited to audition.
Everyone will be notified of the outcome of their application.